MOE'S SOUTHWEST GRILL

NY, NJ, CT, D.C, Chicago
Moe's is not really a client, they are a family member. After 10 years we have not only watched the brand grow from 100 units to over 580, we have watched our clients children grow up and go off to college.
We work with many Moe's franchisees at a local and regional level. From DC to Long Island we have helped many restaurant owners increase sales year over year over year. We work closely with both the franchise partners to drive traffic and  increase sales as well as with Moe's Corporate to continue branding initiatives. We love seeing our clients on the top 50 list and watching the brand grow. 
We've been able to maintain these increases annually with an effective mix of TV campaigns, Social/Digital, Print, Sponsorships and Outdoor Media.
Brian and his team at Creative Vibe have been an integral part of our company for the last ten years. I can honestly say that without their hard work, vision and loyalty we would not be the company we are today
Ryan Monahan – Owner & Operator of Moe's Long Island
Live Nation Ticket Master Gift Card Contest 
With 2014 being the height of live music attendance and the month of August being the peak of Concert/Festival season, Creative Vibe executed an on-site sponsorship for a client group of 12 Moe's Southwest Grill restaurants with Live Nation at their locally supported venue Nikon Theater at Jones Beach. As part of the agreement we (CVA) were tasked to giveaway Ticketmaster Gift Cards to winners of our choice, in the fashion of our choice. The connection between Moe's and music industry mogul Live Nation was a no-brainer; pairing the two brands with our target market of a young, cool, music loving audience. Pairing the Moe's brand with such a dominant group such as Live Nation/Ticketmaster in the music industry was a strategic plan for reaching our target demographic in a long lasting partnership.
As an ongoing effort to increase our social media presence the main focus of the giveaway would be promoted via major social media outlets (ie: Facebook, Twitter, Instagram), the goal was to give away Live Nation/Ticket Master Giftcards to our target audience of 18-34  to a concert of their choice with a minimal budget to promote it.  A 3rd party landing page was setup to host the contest giveaway where users were required to enter their name and preferred email address with the hopes of being randomly selected in one of four drawings.  Entrants were also granted the opportunity to increase their chance of winning by completing further social actions, thus increasing our exposure.
 To put a monetary value on the success of the contest the client would in theory receive $6,145 in gross value. Factoring in the $600 in Ticketmaster/Live Nation Giftcards, $126 in Ad spend and $67 in the 3rd party hosting tool – the client netted $5,352 in net value.
The promotion saw the following social media and email database gains during the promotional period:
Total Unique Entries: 2,208 (email addresses collected)
Bonus via Social Sharing
New FB Fans: 986
New Twitter Followers: 594
FB Reach: 52,603
Facebook Share: 451
Twitter Share: 180
The contest and promotion were exceedingly successful considering a minimal prize and little to no ad spend budget. Execution of piecing together our target market, coinciding with the leader in the music industry market and exploiting the prominence of social media in those segments all lead to success of the contest.
Corporate Initiative: FREE Queso Day, promoted locally
Often when working with Moe's Southwest Grill we take a corporate initiative or promotion and advertise it locally and regionally. This often takes place with LTO's, Cinco de Mayo and in the below case; Free Queso Day. With a balance of radio, digital banners, social media push we've built an extensive database for email marketing & direct text. Below is the audio of the Pandora spot for Free Queso Day along with digital ads that ran on Pandora.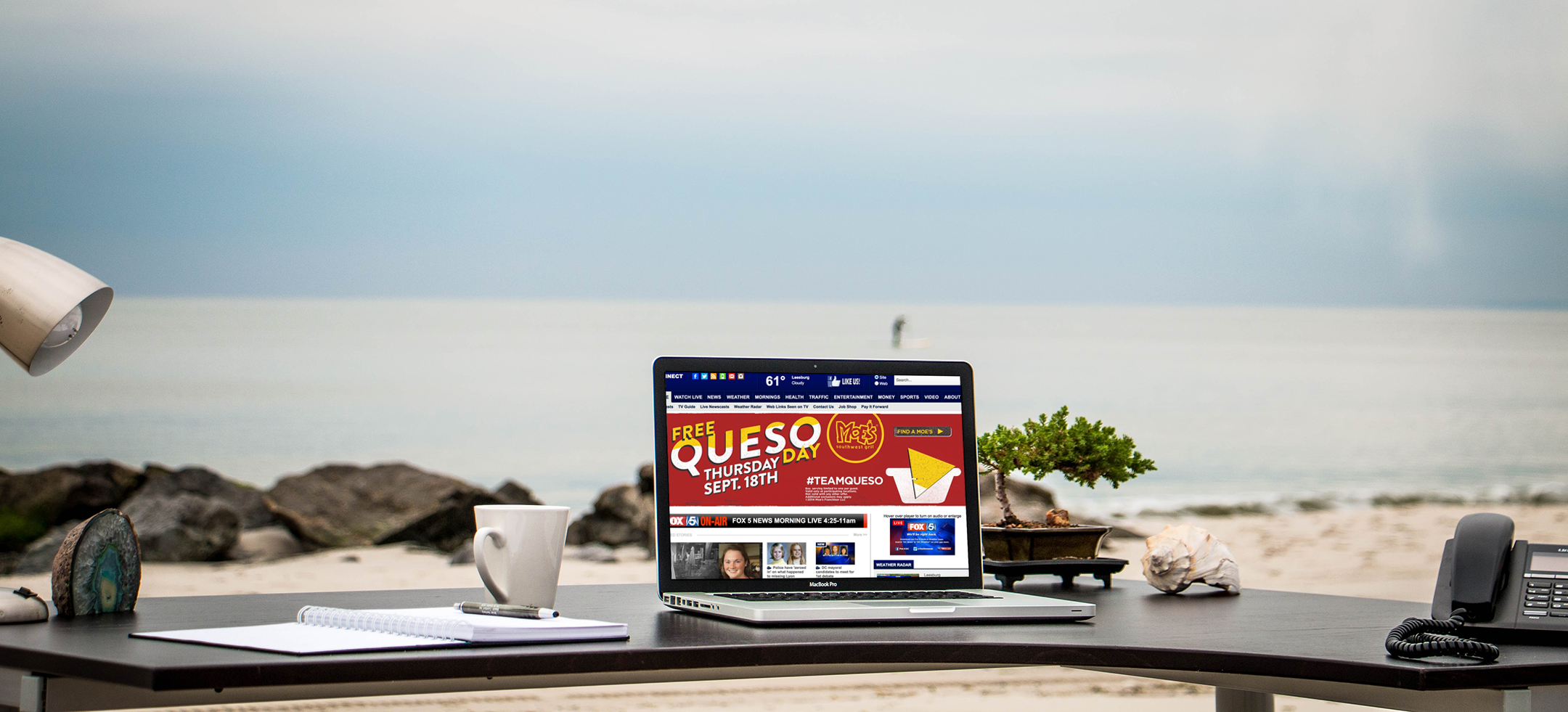 2014 NY Jets Sponsorship
CVA leveraged its relationship with the NY and NJ Moe's markets to put together a major sponsorship with the NY Jets for their 2014 season.  CVA solidified Moe's Southwest Grill as the Presenting Partner of the NY Jets Draft Family Fun Day including representation on all marketing materials from the Jets including; banner ads on newyorkjets.com, E-Newsletter, Daily News Print, Press Release and On-Site Activation.  Once the season was underway so was Moe's with a redeemable  offer incentive on the Parking Passes as well as a Season Ticket Mailing Insert.
Moe's Southwest Grill was also present at 3 Games for On-Site Activation space at the Metlife Stadium Plaza.  300,000 Ad Banner Impressions on newyorkjets.com with click through to Moes.com.   In-Stadium Signage at Jets Home Games as well as player appearances at Moe's restaurants.

Moe's franchise partners have requests and necessities that are not always available from their corporate franchisor.  We've created custom branded vehicle wraps for their catering business including; design, production and installation.